Branding was once thought to be an interesting growth strategy for developing new products and establishing a foothold in the marketplace. Today it is considered absolutely critical - not only for top fashion designers, but also for retailers, manufacturers and licensees. Experts predict that only those companies adopting a strong lifestyle branding strategy will survive in the coming years.
This exclusive report from ABOUT Style analyses the state of branding in the retail and fashion industries and includes sections covering brands and their bottom line, consumer trends, product trends, brand strategy, licensed sporting goods,the luxury market, the Asian consumer and counterfeiting. The report also contains a section profiling 12 leading companies: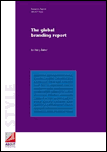 Published: July 2002
Format: PDF/Print
Pages: 56
£295



Nautica Enterprises
Polo Ralph Lauren
Calvin Klein
Giorgio Armani
Kenneth Cole Productions
LVMH Moët Hennessy Louis Vuitton
Tommy Hilfiger
Zara
Gucci
Guess?
Gap
Liz Claiborne
Many leading apparel industry executives and influential Wall Street analysts participated in this research, making it an invaluable resource for anyone involved in branding and its associated industries.